The Quintessa Estate Red Wine
A Pure Expression of the Estate

EACH VINTAGE OF QUINTESSA IS AN OPPORTUNITY to listen to the unique voice of this property that is shaped by the soils, vines, climate, and human element.

Every year has a distinct personality, and with each vintage we are working to make a deeper connection between the soils, their terroir, and our practices so that we can interpret the property holistically. In order to bring about the purest expression of this special place, we farm using organic and Biodynamic® farming techniques, and each year, we learn more about the land's personality and how it reacts to the different conditions of each season. After thirty years, we have come to realize that the more we know about this estate the humbler we feel as we understand and accept the power of nature.
As we release the 2019 Quintessa, we reflect on the character of that vintage and what it reveals about the property at this moment in time. There was an evenness to the growing season that resonates as depth and nuance in the wine. The estate's healthy canopy and the health of the vineyard can be detected in the vibrancy, freshness and purity of the vintage. The 2019 vintage is an expression of Quintessa in a graceful growing season, yielding a wine of transparency and depth – full of flavor, while also energizing and persistent.


"The 2019 Quintessa offers nuance, depth, and great persistence. A complex of flower, forest, fruit, and earth notes harmonize with fine-grained tannin and vibrant acidity. It is a wine of precision as well as transparency. The 2019 Quintessa will drink well now for those who prefer a youthful expression but will also last in cellar for at least another twenty years for those who enjoy the complexities of age." – Rebekah Wineburg, Winemaker.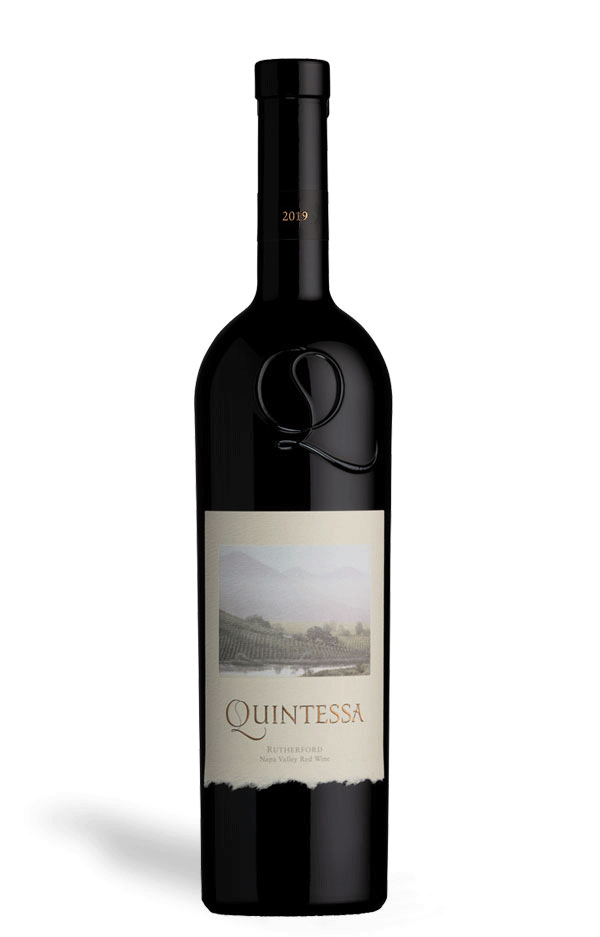 2019 Quintessa
The 2019 vintage began with well-timed rains, providing a graceful start to the season. More than 35 inches through the winter months and into early spring established healthy soils and lush cover crops leading to even shoot growth and a strong early-season canopy for the vines. Spring temperatures remained cool through May. The cooler weather slowed the emergence of bloom on the vine by 13 days compared to the estate's five-year average. This slight delay allowed for an ideal fruit-set, and ultimately healthy yields for Quintessa. Temperatures warmed slightly in summer, encouraging an even arc of ripening while maintaining vibrant acidity. The season gave us a well-paced and steady harvest period. We began to bring in fruit on September 19th and finished October 22nd.

The 2019 Quintessa offers nuance, depth, and great persistence. A complex of flower, forest, fruit, and earth notes harmonize with fine-grained tannin and vibrant acidity. It is a wine of precision as well as transparency. The 2019 Quintessa will drink well now for those who prefer a youthful expression but will also last in cellar for at least another twenty years for those who enjoy the complexities of age.

DOWNLOAD TASTING NOTES >>
---
Library Vintages
PLEASE CONTACT US TO INQUIRE ABOUT LIBRARY VINTAGES
(707) 286 2745 | [email protected]
2018
2017
2016
2015
2014
2013