A Privilege of Place
CARING FOR THIS INSPIRING PLACE is a privilege not taken lightly. Since the beginning, every thought and action has put the land first — starting with planting small vineyard blocks in sync with the undulating landscape, while preserving 100 acres of natural woodland. Organic farming practices are used to promote a balanced ecosystem full of life on the estate. The winery, too, is designed to fit into the contours of the hillside, using gravity to gently bring grapes into the cellar. Today, our commitment to caring for this land remains at the center of everything we do.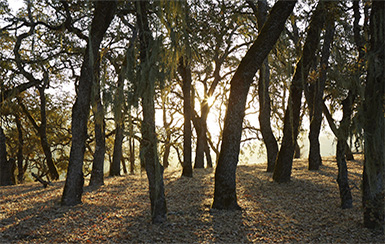 DEVELOPING VIRGIN LAND—unspoiled and never before cultivated—posed both a challenge and an opportunity. We farm using organic practices. This sensitivity to the land contributes to a balanced ecosystem that promotes thriving, healthy vines and long-term sustainability.
A Natural Mosaic
SITTING ON THE EASTERN EDGE of Rutherford, at the foot of the Vaca Mountain range, Quintessa is a natural mosaic — an assemblage of hills and valleys with a variety of soils and microclimates that come together to reveal itself in a wine of elegance and harmony.
QUINTESSA CAPTURES THE ESSENCE OF THE NAPA VALLEY from every vantage point. Here, the landscape rises and falls with undulating vineyard blocks set amidst natural vegetation and groves of ancient oaks. Dragon Lake is home to populations of water life and a wide variety of birds. We invite you to arrange a visit and experience Quintessa.