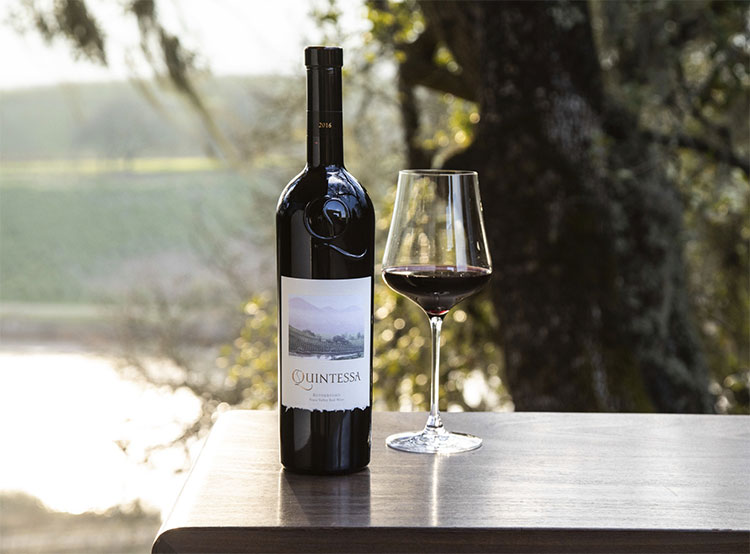 Welcoming the 2016 Quintessa, a Profound Vintage
Each vintage of Quintessa tells a story about the evolution of this property, and about Napa Valley itself. Thanks to a near-perfect growing season, the 2016 vintage has a sense of generosity that is reflected in the wine, with continual layers that are revealed not only as the wine opens in your glass, but also as it ages. We encourage you to enjoy the 2016 upon release, as well as set some bottles aside to experience as your relationship with Quintessa deepens over the next several decades.
At Quintessa, carrying the long-term vision of the Huneeus family into a singular wine is a privilege. Together winemaker Rebekah Wineburg and Estate Director Rodrigo Soto, along with winemaking consultant Michel Rolland, work closely to create a wine that lets the vineyard speak. As a result, the soul of Quintessa shines through vintage to vintage. The 2016 in particular is a wonderful representation of the spirit of Quintessa, as cooler temperatures in August allowed the fruit to reach peak ripeness and vineyard expression. Harvest began before dawn on September 15th and continued through October 13th—before the winter rains began to nourish and replenish our soil. The resulting wine is complex and elegant, with layers that envelop from the very first sip.
Welcoming with aromas of cassis, blackberry, red currant and undertones of sage, thyme, and rose petals, the 2016 Quintessa continues to expand in the glass as notes of exotic citrus, clove, and fresh tobacco mingle with bright fruit. Full and rich, the wine is held together with fine-grained tannins that interweave with flavors of dark chocolate, black cherry and blueberries. The vintage is distinct for its energy, depth of flavor, and will leave a lasting impression with its velvety texture and intoxicating perfume.
The 2016 vintage of Quintessa will be shipped to our Vineyard Circle members on March 25th, 2019. For more information on the benefits of membership, please click here or call 707.286.2745.
‍
‍