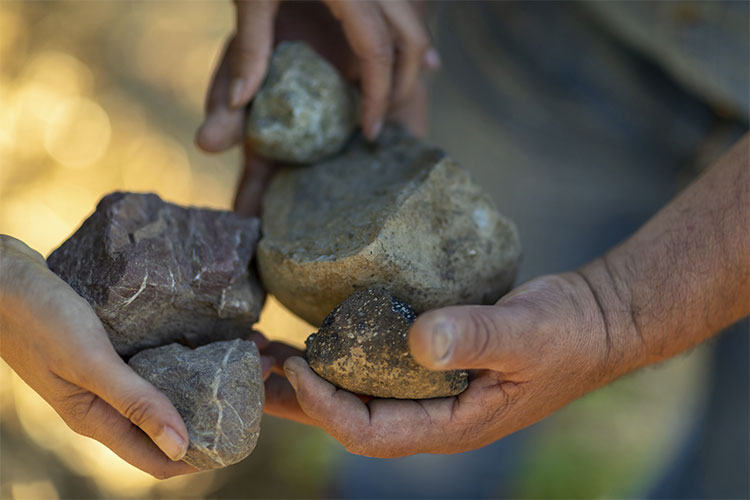 The Language of the Land
Glance into Estate Director Rodrigo Soto and Winemaker Rebekah Wineburg's office on the fermentation level of the Quintessa winery, and the first thing you see is rocks— rows and rows of volcanic rocks, in shades of gray, ocher and ebony, some that even resemble gemstones. "This land has been witness to the creation of Napa Valley," notes Rodrigo. "These rocks represent a microcosm of the diversity that makes our appellation so special."
This variation in color, texture and size of these rocks is a visual symbol of the powerful geological events that occurred on this property in ancient times and created the foundations of our landscape.
"This land has been witness to the creation of Napa Valley."- Rodrigo Soto, Estate Director
A combination of river formations along with ancient earthquakes and land movement created our hillsides and various exposures. Over time, this created vast variations in soil and rocks across the property that give us dozens of micro-terroirs. These create an incredible diversity of environments for the vines to grow, and finally, an array of different flavors in the wine. Understanding the differences in these rocks provides a deep knowledge of the land—a literal bedrock of diversity— that gives Rodrigo and Rebekah the foundation to hear the voice of each vineyard block and, ultimately, the holistic voice of the estate. "Nature is the architect here. Our intent is simply to articulate and interpret their voice," says Rodrigo.
‍