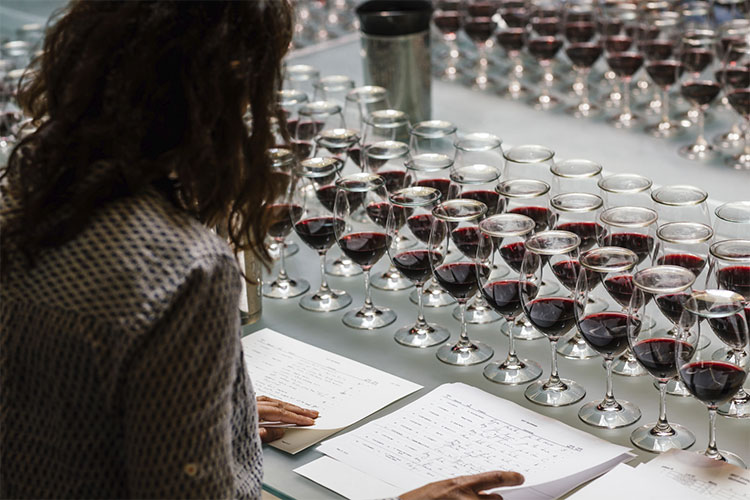 The Art of the Blend
On a warm August day at Quintessa in the heart of Rutherford, Rodrigo Soto sits across from Rebekah Wineburg and a table covered in some 150 glasses, each filled with a different barrel sample of estate wine from the 2017 vintage, which has been aging in barrel for almost a year in the caves beneath the blending room.
"When people think of winemaking as both science and art, the blending process is truly the artistic side, as the final Quintessa blend is more about the expression of the estate than the varieties themselves,"Rebekah comments.
Before we can appreciate the art of the blend, however, we must first understand how a single property can give us 150 unique wines, which requires a deep understanding of the Quintessa estate.
"There is only one essence, and that is what the wine Quintessa is. It is a true reflection of the estate." – Rodrigo Soto, Estate Director
Sitting at the foot of the Vaca mountain range, Quintessa is a natural mosaic of hills and valleys with a variety of soils and microclimates. Vineyard Master Valeria Huneeus chose to plant the natural landscape in small blocks in sync with the unique sub-terroirs of this property. Today, we view these twenty-six different vineyard blocks as a part of a greater organism, as well as individuals that are farmed uniquely throughout the growing season.
Once harvest is upon us, every block, depending on its topography, is picked four, five, sometimes even six times, based on flavor development and ripeness of the grapes. This creates multiple fermentation lots per block, multiplied by twenty-six lots, which gives you a vast number of flavors and combinations that will be translated into the one wine. "To make a single wine from an estate requires a lot of discipline," notes Rodrigo, as he raises a glass to inspect the color. "The topography gives you a lot of different elements, a lot of different flavors, a lot of different combinations. But the expression is to be a single one."
Through a year long blending process, Rodrigo and Rebekah will taste through each of these 150 wines multiple times to narrow the number of lots, singling out which has eloquent character to offer, and to decide how much of each will create the harmony of finesse against power, elegance, and complexity that speaks of the spirit of Quintessa in that particular vintage. "There is only one essence, and that is what the wine Quintessa is," says Rodrigo. "It is a true reflection of the estate."
"When people think of winemaking as both science and art, the blending process is truly the artistic side, as the final Quintessa blend is more about the expression of the estate than the varieties themselves." -Rebekah Wineburg, Winemaker
‍
‍
‍
‍