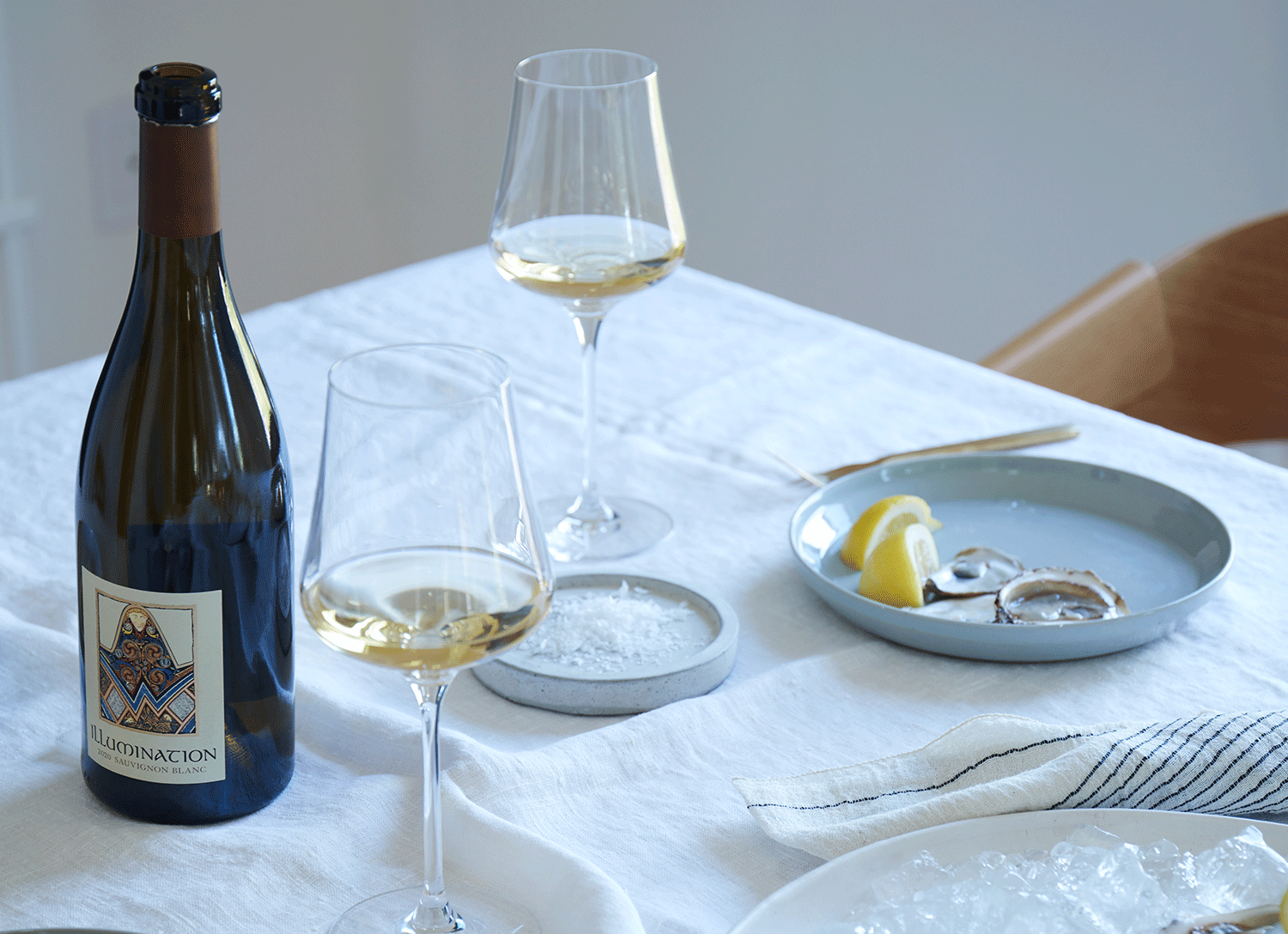 The 2022 Illumination
Our Illumination mirrors the soul and substance of Quintessa, produced with the same philosophy of blending and expression of terroir. It's a white wine with complex layers of flavor, profound textures, and the capacity to age. A blend of Sauvignon Blanc and Sémillon, Illumination expresses the character of the sites where it is grown, amplified by our closely attuned farming and winemaking practices.
The core of the fruit for Illumination comes from our estate, planted in lower, cooler, moister sites ideal for Sauvignon Blanc—especially the Sauvignon Blanc Musqué clone responsible for the fragrant profile of our blend. In fact, Las Casas, our Sauvignon Musqué block, lies at the very center of the estate. Before Sauvignon Blanc is ripe, its berries are opaque, but as the clusters ripen, they turn translucent. When the sun hits them at harvest, they glow, and in a real way, illuminate the vineyard all around.
Building on our estate fruit, we intentionally add lots from like-minded partners whose farming aligns with our own observant approach. From Bennett Valley in the north to Carneros in the south, the sites we have selected to complement our own fruit are dramatically different—each adding unique character and complexity to the wine, to create a multidimensional whole.
In the cellar, we employ a wide range of vessels to ferment and age the wine, matched to the character of each fruit source. Neutral oak allows the fruit flavors and natural textures to shine. Stainless steel barrels bring Sauvignon Blanc's piercing linear citrus to the front. New Frenc barrels, used for a small percentage of the blend, add spice as well as creaminess, and new acacia a dried floral note that echoes the same aromatic in the wine. Finally, concrete eggs accentuate the minerality derived from the vineyard.
In 2022, our Illumination was also shaped by a refreshingly moderate growing season. Cool spring weather and late rain slowed growth in the vineyard, allowing the vines to focus their energy on developing clusters. June and July spooled out ideally, encouraging the development of deep flavors and textures, while warmer temperatures in August speeded ripening. Overall, the combination of warm days, cool nights, and foggy mornings created fresh fruit character along with perfect acidity. The wine is precise and bright, attaining that holy grail of weight and complexity without heaviness.
Two parts of a whole, Illumination and Quintessa share our philosophy of blending expressive components to create a complex portrait of place.