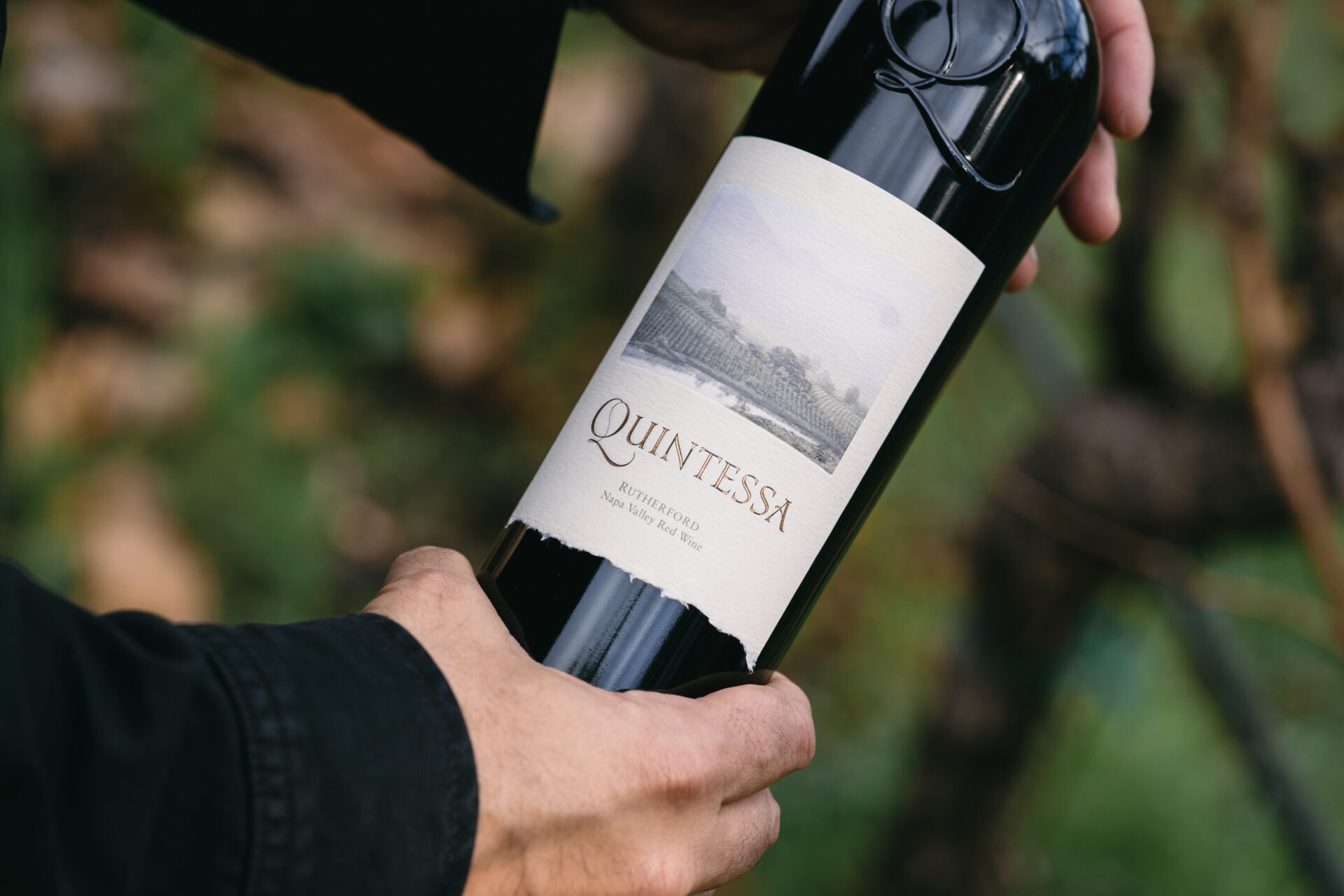 The 2019 Release
The 2019 Quintessa celebrates the precision and nuance of a vintage that reflects the full complexity of our estate. It is an expression of Quintessa in a graceful growing season, yielding a wine of transparency and depth—full of flavor, while also energizing and persistent.
This vintage began with well-timed rains that encouraged a smooth start. It was a pleasure to walk the rolling hills and witness healthy growth throughout the property. More than 35 inches of rain fell from winter to early spring, establishing a lush cover crop and healthy soils, then leading to even shoot growth and a strong early-season canopy for the vineyard. Spring temperatures remained cool during May, slowing the bloom on the vine. This gentle delay brought an ease to the growing season and an ideal fruit-set for us to enjoy the healthy yields.
Throughout the year, the weather remained pleasantly consistent. Ten days of 100-plus degree temperatures in summer encouraged the vines to ripen, while maintaining vibrant acidity. A mild autumn allowed us a well-paced and steady harvest as we began to pick fruit on September 19, finishing on October 22.
In the cellar, our winemaking is inspired by our deep knowledge of the vineyard. Decades of thoughtful and attentive farming have taught us to respect the personality of Quintessa, with its distinct character and voice, and to let it guide our process.
Each block is fermented separately in vessels that best suit that part of the vineyard. Over time, we have come to realize that much of the estate is best expressed through fermentation in concrete. Concrete elevates and preserves aromatics, while capturing a purity of flavors. It also provides natural temperature control. After fermentation, wines are kept in the tank on skins for an extended maceration before sending them to barrel for aging. This combination of gentle fermentation with extended maceration helps develop elegance and fine- grained tannin.
The result is a wine of nuance, depth and great persistence. The 2019 Quintessa offers a mingling of flower, forest, fruit and earth notes that harmonize with fine-grained tannin and vibrant acidity. It is characterized by precision as well as transparency. It will drink well now for those who prefer a youthful expression, but will also last in cellar for at least twenty years, for those who enjoy the complexities of age.