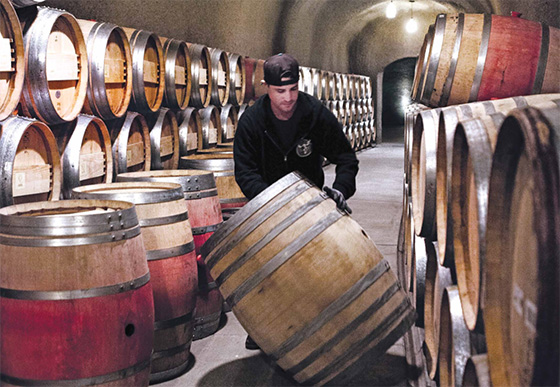 Rolling Out the Barrel
Two of the most exciting months to visit Quintessa are September and October, when the grapes are harvested and the winemaking process begins. Much activity gets under way at this point—and that's when you may hear lots of banging coming from the wine cellar. It's the sound of the winemaking team removing and replacing the heads on the 150 or so French oak barrels used to ferment a portion of the wine for that year's vintage.
"It is a very involved process," says Quintessa Winemaker Rebekah Wineburg of this meticulous (and noisy) method. "A lot of producers use barrel fermentation, yet not extensively because it requires so much work. But I believe what's gained from it—the results you see in the glass—make it worth it."
Following the recommendation of Quintessa's consulting winemaker, the world-renowned Michel Rolland, the winery introduced barrel fermentation with the 2014 vintage. After Wineburg and her team tasted the admirable results, the banging in the cellar intensified as Quintessa stepped up the process with the 2015 vintage.
"The 2015 is the first vintage in which we used barrel fermentation for a significant amount of the wine," says Wineburg, noting that about 20 percent of the blend for the latest release fermented completely in the 225-liter vessels. "Integrating the oak barrels in this way allows the development of these very beautiful flavors of chocolate-covered raspberries and dark cherry."
The barrels are one of four types of vessels the winery uses for transforming must—the crushed grapes—into wine. Much of what ultimately becomes Quintessa ferments in three types of tanks—neutral wood, concrete and stainless steel—before the contents of each are transferred into oak barrels to age. The barrel-fermented wine, meanwhile, remains in its barrels for the entirety of the aging process.
Because oak is porous, the wine is able to breathe very slowly through the wood during fermentation. Winemakers call this exchange élevage, which allows tannins to develop and leaves the wine more concentrated and intense, adding richness and depth. Meanwhile, the oak's essence intensifies the wine's bouquet, imbuing aromas of vanilla, caramel and spice, and enhances the velvety texture of Quintessa.
Materials aside, barrel fermentation demands a tremendous amount of exertion and attention. Quintessa believes in the complicated, labor-intensive method of replacing each barrel head and sealing in the must, then laying the barrel on its side on a rack and rolling it regularly to fully introduce the oak to the must while it ferments. "We roll the barrels four times a day," says Wineburg, who oversees what are essentially 100 to 150 individual fermentation processes taking place in the barrels, in addition to those occurring in the winery's concrete, wood and stainless steel tanks. "Barrel fermentation is a process that takes up a lot of time and effort—so it's something that's worth doing only if the wine from it is worth adding to the blend."
Which, Wineburg assures, it most certainly is. "It adds another layer of complexity," she says. "It adds to the opulence that you taste in the wine." •