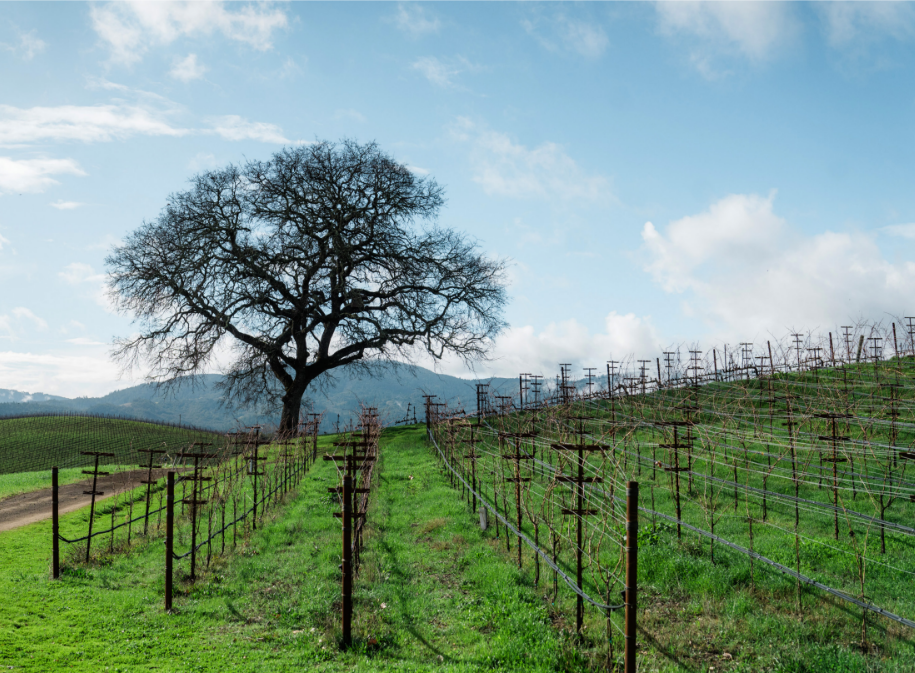 Guiding the Vine
It can be easy to overlook a vineyard in winter. The vines are bare of leaves, dormant. The fruit has all been harvested. However, the winter months reveal a wine's potential.
Bare vines in winter stand like an x-ray, divulging the form of their growth over time. The vineyard's imperfections are visible. Its adaptation to the unique conditions of its site, and how we have guided its growth season to season, can be seen in the skeleton view of the vine.
The bare vine shows how rain and soils have guided its growth, how warm the season was the year before. We can also see the marks made previously on the vine, cuts from pruning in years past. Together, they reveal the ways we have tried to sculpt the vines' potential. We are offered a chance to consider how we will sculpt the vine again through the new year's pruning. In this way, winter gives us a moment to reconsider all we have assumed before and integrate what we have learned since.
Over time, we become more intimate not just with the vines, but with the environment of the vineyard. We study its geology and soils, learn its climate and temperatures, get to know the other plants and wild flora that also grow here. This deeper understanding hones how we care for each vine. We have learned that less is more. To respect the sap flow that will return to the vine in spring, we make pruning cuts only in the wood from the previous year. In this way, the long-term growth of the vine remains, and we leave room for new wood to grow in the upcoming year.
It is our philosophy to harmonize the environment of the vineyard with the history of each vine and our investment in its longevity. The master pruner sees each vine as its own life, dependent on its environment for growth. Pruning in this way is a careful discipline to respect the vine.
It is this discipline that also transforms each of us who prune the vineyard, helps us hone our vision while we elevate our craft. For the methodical pruner, this winter activity becomes not just a task to accomplish, but a connection with every vine. The vine communicates its relationship to its surroundings, and we begin to see how our work is also part of its growth. The experience and vision of the pruner merge with the history of each vine to sculpt its future.
The vineyard becomes as much an expression of the pruner guiding its growth as the environment from which it grows. For the pruner guided in this way, each vine is a reflection of their art, each winter a chance to elevate the voice of the vineyard.