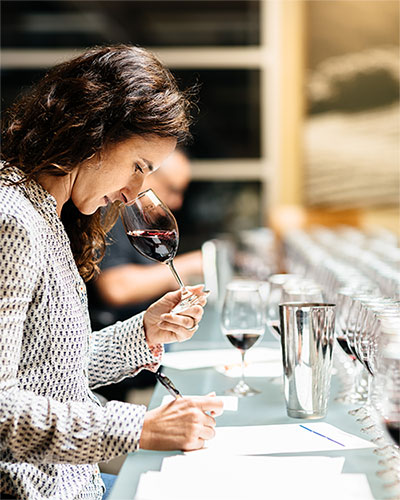 A Legacy in the Making
Winemaker Rebekah Wineburg leads us through a retrospective tasting of the last 20 vintages of Quintessa, an experience that reveals the evolution of the wines in the cellar—and the evolution of a great Napa Valley estate.
1994
Quintessa makes its debut in a strong vintage year that, decades later, proves the Huneeus family's dedication to wines that evolve, not just age, in the cellar. The inaugural release, now a pale brick red, opens with a beautiful spice note surrounded by aromas of cedar, caramel, and leather. Creamy and sublime in the mouth, finishing with red fruit and a sweetness to the tannin. This is a magnificent wine from a memorable vintage.
1995
An El Niño year of roiling weather—including winter floods and a June hailstorm—produced a wine with structure and complexity. With a mature, brownish-brick hue and a round texture, it is rich with berry flavors and cassis aromas, and has a touch of earth on the nose and palate.
1996
Smaller crops followed shattering spring rains during the bloom. But a warm summer produced wines of concentration and depth, resulting in a vintage now called a "sleeper" year. With a complex nose of black currants, herbs, incense, and mint, its richness balances with an appealing cherry-balsamic note mid-palate.
1997
Mother Nature blessed the Napa Valley in 1997 with close to perfect conditions. Twenty years later, this wine shows a youthful color in the glass—brick red with orange edges—with ripe, earthy aromas and notes of black cherry, plum, and pears.
1998
This vintage had a very late harvest and, although it was a long wait, it was worthwhile. The lively wine is showing a bright, mahogany rim, with aromas of red and black fruit, balanced by cool herbal undertones.
1999
This dynamic vintage is the result of a mild season that gave the fruit long hang time and concentrated flavors. Showing younger than its years, this wine brims with flavors of black cherry, cola, and Christmas spices, ending with a smooth, long finish. A stellar wine bursting with personality.
2000
The century's first vintage—the product of a perfect season. Exotic and layered upon opening, with a lush floral and almost apricot nose, a juicy finish, and lively character throughout. Velvet texture and almost salty note.
2001
A "roller coaster" growing season with a surprise frost, early heat spikes, and a late harvest. Upon release, this wine was known for its beautiful fruit concentration and rich texture. With age and maturity, the ripe fruit flavors are now layered with hints of caramel and burnt sugar.
2002
Mild weather and a warm September produced ripe, concentrated fruit and a wine with great softness of texture, with ripe blueberry and blackberry flavors mid-palate and in the finish. This started out as a celebrated vintage at Quintessa and it has remained in excellent condition.
2003
This year produced wines of infinite complexity that reminded us that vintages do make a difference in California. If some vintages are epic symphonies that dazzle even the untrained ear with their power and force, then 2003 is an intricate string concerto that astounds us with subtlety and speaks to our soul. More than a decade later, this is still an aromatic wine that reveals layer upon layer of intriguing flavors.
2004
One of Napa Valley's earliest bud breaks heralded a vintage where everything happened earlier than usual. Due to the very concentrated vintage, the 2004 Quintessa takes a departure into the realm of power, all the while maintaining the finesse and elegance that have been the signature of Quintessa since its inception. This wine is still youthful and juicy, with aromas of crushed berry, chocolate, leather, and earth.
2005
Called a "signature vintage" of Napa Valley upon release, with a season that included record-setting rain offset by a balmy Indian summer. The wine is drinking beautifully, showing notes of ripe red fruit, blackberry jam, and hints of vanilla.
2006
This is a vintage that greatly rewards patience. This dramatic and dense wine was tight upon release, but has since opened up its layers, showcasing bold dark fruit laced with aromas of mocha and sandalwood. With well-structured tannins, the wine has round edges, a juicy finish, and immense length—hinting at great potential to evolve further in the
cellar.
2007
This legendary Napa Valley vintage continues to live up to its potential. Seductive with lushness and a slightly jammy character, 2007 Quintessa is a delicious wine with bright red fruit, complemented by earth, mineral, and floral notes. A soft entry and sweet tannin that continues through the finish, this wine is simply enchanting.
2008
A low-yield and high-quality vintage showing beautiful intensity. This youthful wine delights with concentrated fruit complemented by baking spices and vanilla.
2009
Ideal conditions, including little frost and moderate summer heat, produced a bright, charming vintage with vanilla, plum, violets, and minerals dominating the aroma and flavor profile. An integrated and round wine with elegance and density, and altogether a seamless wine that will age for years to come.
2010
After three relatively dry years, a spring deluge followed by heat spikes produced an early harvest. The wine has a beautiful deep ruby
color, with aromas of intense cassis and blackberry and a hint of anise and
fresh tarragon. This is a lush and lively wine that drinks beautifully now,
while showing great potential for aging.
2011
A classic vintage. A cool growing season, followed by a warm September that allowed the grapes to achieve full flavor development. This is a mouth-watering wine with juicy fruit, lush round tannins, and a seductive finish.
2012
A seamless wine from start to finish. The aroma of violets mingles with red and black fruit, and the wine's flavor is rich and concentrated on the palate, finishing with fine, well-balanced tannins. This is truly an exceptional wine from a growing season described as simply "perfect."
2013
Recognized upon its release as the vintage of the century, the 2013 Quintessa has grown only more profound. Deep and dark with layered aromas of cassis, cherry, tobacco leaf and spice, this wine is on a compelling aging trajectory, showing powerful tannins and an impressive finish. It's a wine that calls out to be paired with a thick-cut ribeye, and will easily handle another 20 years in the cellar.
2014
The 2014 Quintessa reflects another aspect of our terroir. While the 2013 is all masculine power, the 2014 is pure grace and elegance. Lush and open, it shows black and red fruits with soft, supple tannins, and finishes with a velvety texture. It's an alluring vintage now and I see it improving with mid-term cellaring.
2015
Ever since its release, the 2015 has struck a tantalizing balance between the 2013 and 2014 vintages. But with a few years of aging, it nows stands out more fully on its own. Still youthful, this wine has matured into a vibrant medley of cassis and black cherry, silky dark chocolate and supple tannin. Structured yet seductive, it's a deeply enjoyable vintage that will grow only more compelling over the next 10 to 20 years.