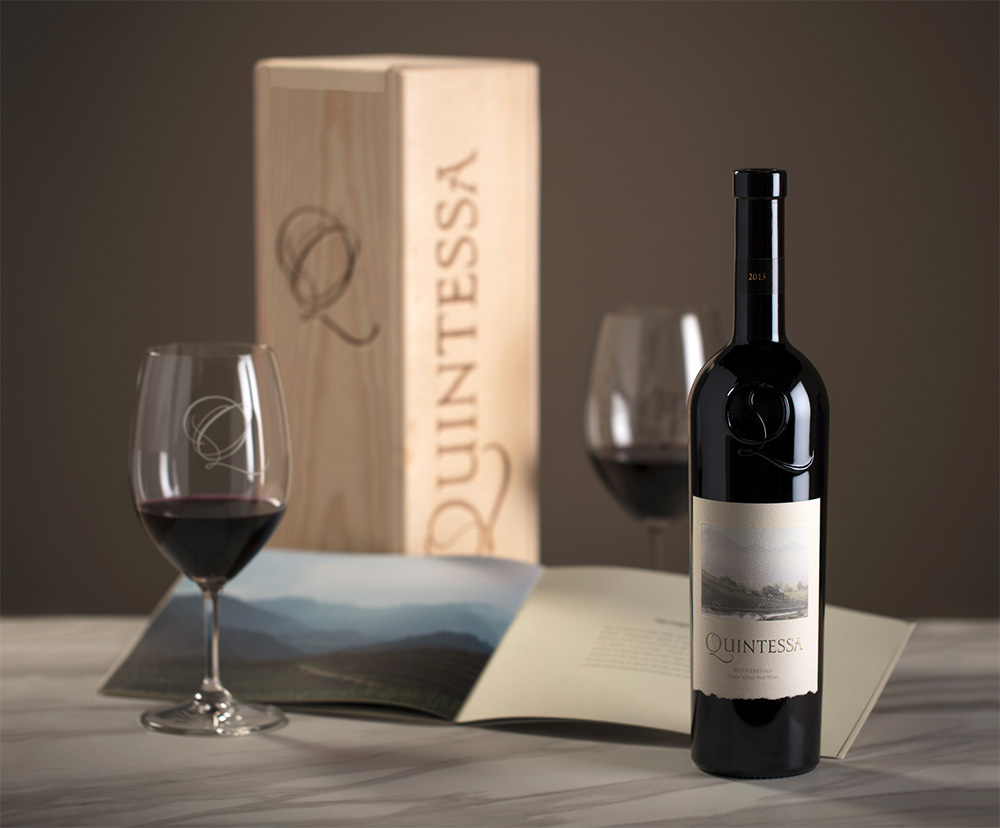 A Landmark Accomplishment
While crafting the 2015 Quintessa, Rebekah Wineburg,the estate's winemaker, instantly perceived the opulence, texture and length of an exceptional vintage, one that would delight immediately and through the years and decades to come. When she recently opened a bottle and poured herself a glass of the wine, it only confirmed what she presumed—that this latest release is destined to become coveted by collectors.
"It has this beautiful core fruit," she says. "This vintage has all the Quintessa hallmarks: fresh fruit that is both red and black, and layers underneath of more savory character, then dark chocolate. It has power, but it's also very elegant. It's going to age wonderfully for 20 years or more."
Exquisite as this wine is—and promises to become—Wineburg prizes the 2015 vintage for another reason as well. This is the first Quintessa release with which she was involved from beginning to end—"from soil to bottle," as she puts it. "Every vintage is distinct, but this one is more so," says Wineburg, who joined the estate in the spring of 2015. "The 2015 Quintessa has a gorgeous richness, with superb texture and a long finish. It is indeed special."
Intricate Harmony
Like the world's other great wines, Quintessa expresses the distinct qualities of the land from which it is sourced. The estate, encompassing 280 acres in Napa Valley's Rutherford appellation, includes diverse soils, rolling hills, shallow valleys, a river and a lake from which all water used to irrigate the property is drawn.
Agustin and Valeria Huneeus acquired the estate in 1989, when the land was pristine—never cultivated—recognizing that its unique range of soils, microclimates and exposures created by the varying topography could produce a red wine to rival the world's best. The first vines were planted the same year that Agustin and Valeria bought the estate, and Quintessa yielded its first vintage in 1994. Today, a total of 160 acres are planted with Cabernet Sauvignon, Merlot, Cabernet Franc, Petit Verdot and Carménère on 26 vineyard blocks. Each block is farmed—organically and biodynamically—harvested, and vinified individually to preserve and enhance the nuances of the land.
Aged separately for as long as two years—some fermented in French oak (see "Rolling Out the Barrel")—the wines are then crafted into a harmonious and elegant blend that comprises primarily Cabernet Sauvignon. The 2015 is a blend of all five Bordeaux varieties planted on the estate, and 20 percent of the blend was barrel-fermented. Giving the 2015 Quintessa a score of 94–96 on his 100-point scale,
Robert Parker writes, "The palate is bursting with densely packed, youthful black fruits, framed by finely grained tannins and refreshing acidity, finishing long."
94-96 Points
A Vintage of Determination
Wineburg also notes this release exemplifies how a vintage, when nurtured with care, can overcome challenges to become a rare and beautiful wine. The 2015 growing season presented tricky weather conditions; the vines, most of which are now 28 years old, began yielding fruit sooner than normal when warm winter temperatures spurred an early budbreak. After contending with high heat during the summer months, the canopies offered relatively small clusters and small berries—producing an exceptional wine that displays concentrated flavors of black fruits and spice with a silky, pleasurable finish.
While the vines' weather-related struggles enhanced the wine's character, they diminished the estate's yield. Consequently, demand for the 2015 Quintessa could quickly outstrip supply, disappointing would-be buyers who fail to act fast. "It's definitely a vintage people won't want to miss out on," says Meaghan Becker, echoing Wineburg's sentiment that the 2015 will become known as a collector's vintage of the highest quality. "What really characterizes the wine for me is its density. It has a beautiful, lush mouthfeel, with structure that is going to last for decades."
The 2015 Quintessa is now available to purchase online. To order, click here or call 707.286.2745.